Editor's note: This story is reprinted with permission from the Omaha World-Herald.
Sgt. 1st Class Doug Kirby curled up, broken and burned, on the ground in front of the flaming Army fuel depot. Nothing remained of his left leg but a bloody stump.
In the hours just after midnight that morning — June 5, 1970 — Kirby had been guarding the fuel farm at Qui Nhon, South Vietnam. He dimly remembered the firefight as Viet Cong saboteurs opened fire, the massive explosion as several large fuel tanks ignited, and the now-dead VC who had flung the satchel bomb that ripped off Kirby's leg.
Near death, he couldn't breathe or talk. He could barely blink his eyes.
"I honestly thought I was crossing back and forth between this side of life and that other side," recalled Kirby, 80, who lives in Omaha. "I swear before God, I just wanted to stay on the side of peace and not go back to the hell I was in."
Then, out of nowhere, angels: three soldiers in a military police Jeep. They propped Kirby up in the front seat and sped off through the streets of Qui Nhon to a U.S. military hospital.
One of the soldiers, a Spec. 4, sat behind Kirby, slapping him repeatedly and yelling, "Stay with us! Stay with us!"
Kirby hung on, barely. He spent months recovering from his wounds and was medically discharged from the Army the following year, with a 100 percent disability.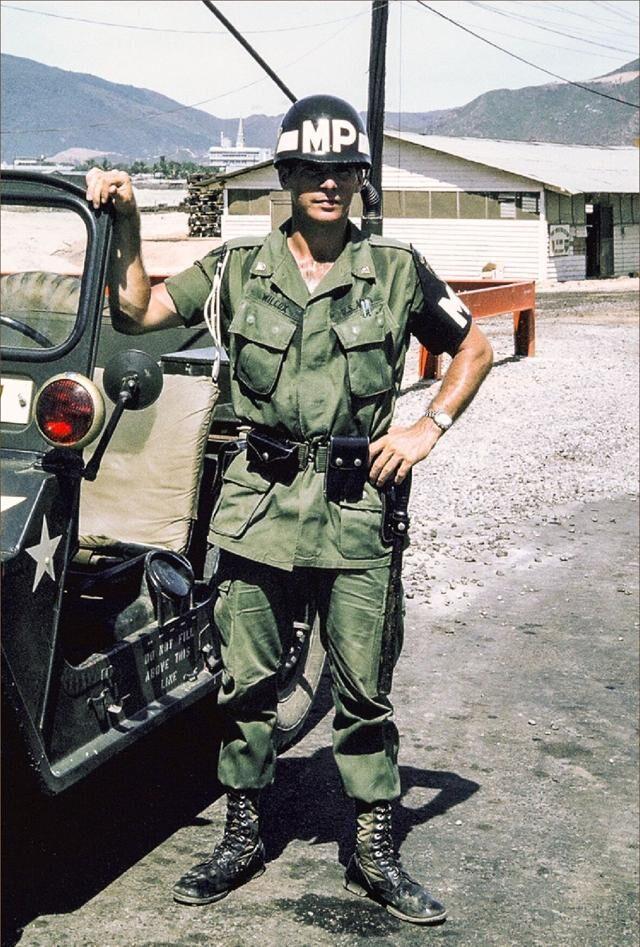 In the years and decades that followed, he often wondered about the "angels" who had saved him from the fire. He didn't know any of their names.
Until now.
Last fall, on Oct. 22, he found an account of the battle of the tank farm online. A former military policeman named Rick Wilcox described rescuing a grievously wounded master sergeant from the flaming wreckage of the fuel depot at Qui Nhon that night and rushing him across town to a military hospital.
Kirby — who was actually a sergeant first class at the time, one rank lower — realized Wilcox was talking about him.
"I said, 'Oh my God! I found the guy who saved my life!' " Kirby said.
He typed an email to Wilcox.
"I hope you're still alive to read this," he wrote. "Chills throughout my body is the only way I can describe how I feel! THANK YOU FOR SAVING MY LIFE!"
Wilcox, equally stunned, booked a flight to Omaha from his home in Western Massachusetts. Just in time for Veterans Day, the pair spent three days swapping stories and answering half a century's worth of questions.
"It's very emotional. I knew it would be," Wilcox, 72, said Monday. "In 24 hours, I've let go of a lot of stuff. I've found some peace."
It took more than a few serendipitous twists for Kirby and Wilcox to cross paths in Vietnam briefly in 1970, and then reconnect 51 years later.
"It's like a Victor Hugo novel," he said.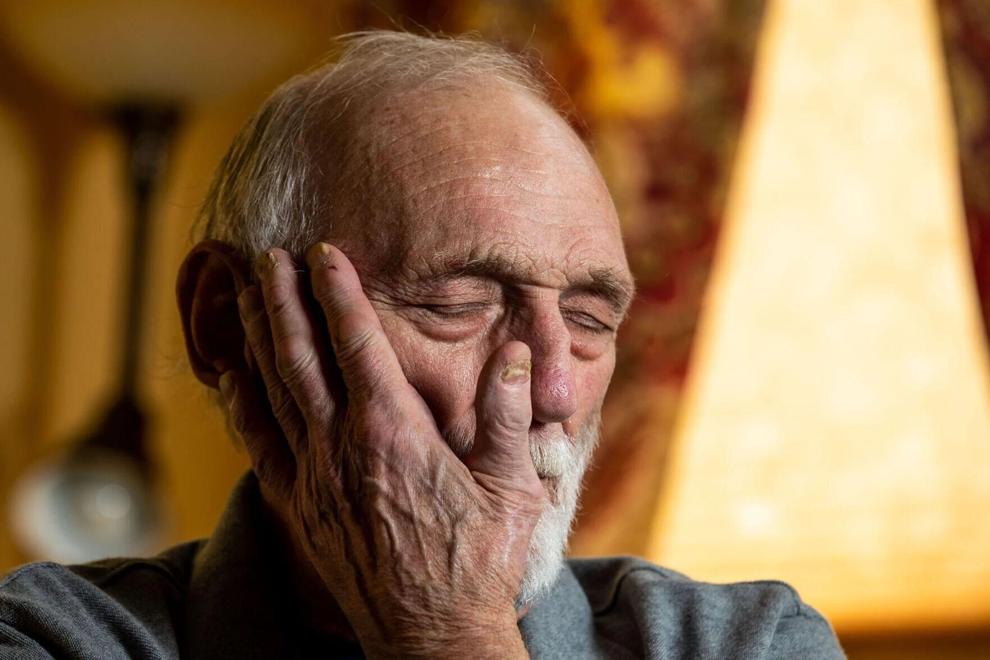 Wilcox grew up in Stockbridge, the kind of town that could, and did, inspire Norman Rockwell paintings. (Rockwell's studio was in Stockbridge.) In 1965, the artist once paid Wilcox, then 15, $10 to pose as a Boy Scout getting pinned with a merit badge for a painting that was reproduced on the cover of Boys' Life magazine.
An uninspired student, Wilcox wanted to go into law enforcement after graduating from high school. He enlisted in the Army with an agreement that he would be trained as a military police officer.
"I thought it might be a little easier to get a job out of the service," Wilcox said.
He was looking forward to an assignment in West Germany or South Korea like many of his classmates.
Instead, the Army sent him to Vietnam in March 1969. And as an infantry soldier, not a military police officer.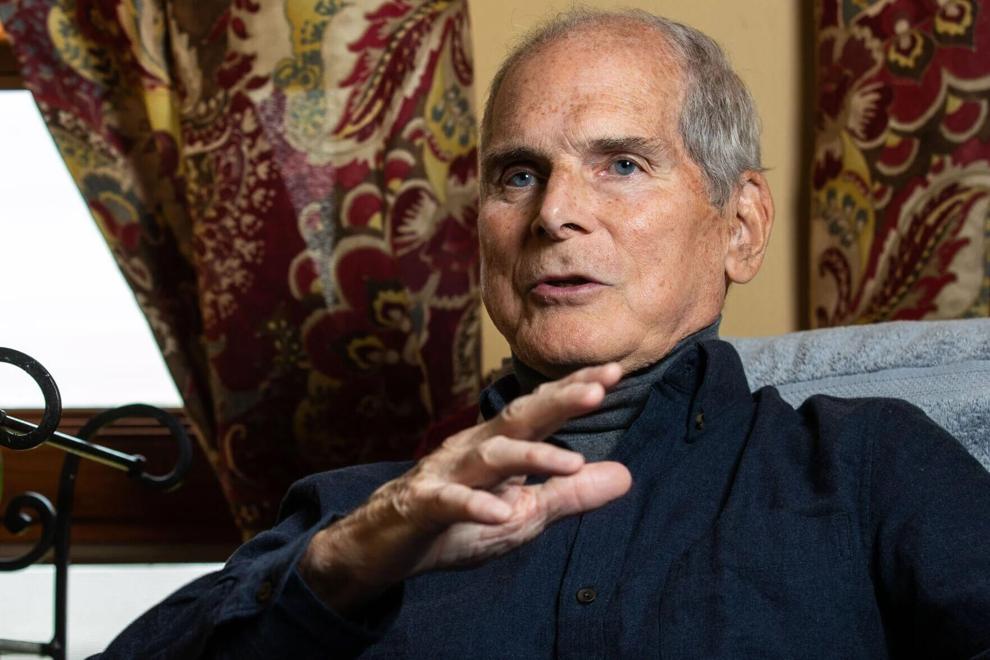 Nearing the one-year mark, he opted to extend for six months. He got his choice of assignments and picked a military police slot in the port city of Qui Nhon, 270 miles northeast of Saigon. He was part of a "reaction team" with the 127th Military Police Company, responding to emergencies along with routine patrols.
"It looked like a really nice place to go," Wilcox said. "Peaceful."
That's pretty much the same reason Kirby had landed in Qui Nhon.
Kirby grew up in the South — mostly east Tennessee and Georgia — following his father, who did construction work.
After graduating from high school in 1960, he faced the choice of working construction with his dad, or joining the Army. He enlisted in early 1961 and stayed in, even after the war in Vietnam ramped up.
Kirby was an airborne soldier and was on his second tour in southeast Asia when he arrived at Qui Nhon at the beginning of June 1970. Weeks earlier, he had been involved in secret missions against North Vietnamese positions across the Cambodian border.
He had recently retrained as a petroleum supply sergeant and also chose the assignment in Qui Nhon.
"It was one of those safe rear areas," Kirby said. "I was going to the beach. I thought I was in heaven."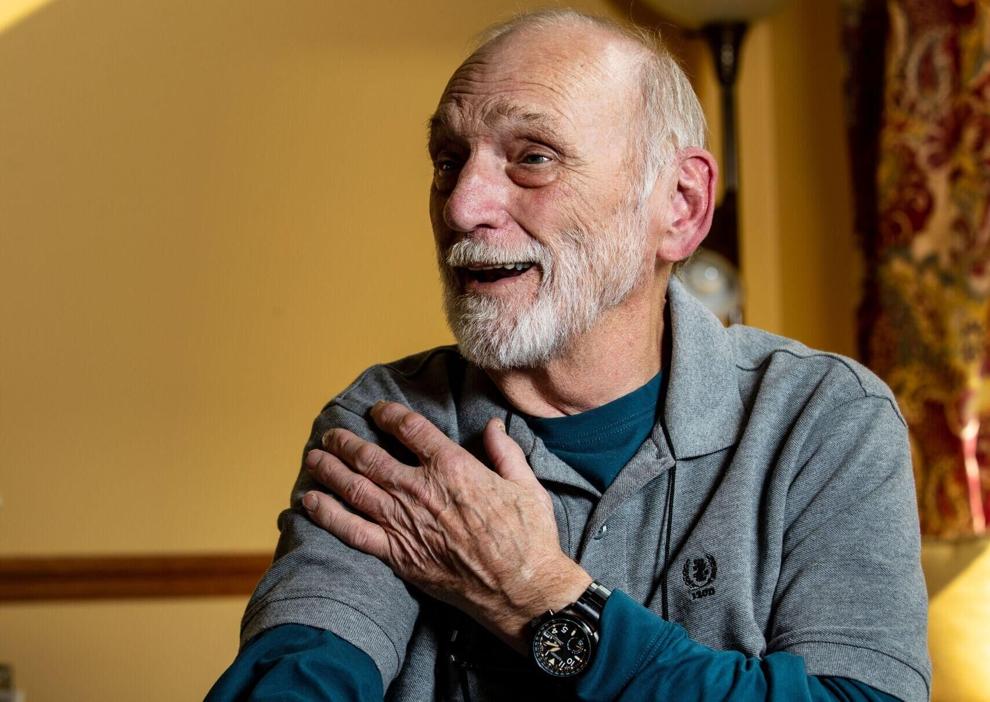 The night of June 4-5 was Kirby's second night standing watch at Qui Nhon's Tank Farm II, the main fuel storage and distribution depot for U.S. forces in South Vietnam's Central Highlands. The 25-acre site in the hills outside the town held 20 million gallons of fuel for trucks, helicopters and aircraft.
A chain-link fence and razor wire surrounded the fuel farm, and Kirby had posted about 30 soldiers in gun towers and bunkers around the perimeter. Two men with guard dogs also patrolled.
About 11:30 p.m., electronic sensors started sending alarms, and the dogs sensed trouble. Spurts of gunfire followed, then rockets and explosions as some of the giant fuel tanks ignited, lighting up the night sky.
Viet Cong sappers carrying small satchel bombs penetrated the camp. Two of them got into the small building where Kirby and his radio operator, Pvt. Roosevelt Braggs Jr., 20, had been standing.
Kirby shot one sapper at the entrance, but the other threw his bomb with the fuse lit. Kirby and Braggs both dived for a corner. Braggs landed on top and bore the brunt of the blast. He died instantly.
"If his body wasn't there, my body would have been cut in half," Kirby said, tearing up at the memory.
"A fire was raging all around us. I knew immediately my left leg was gone," he said. "I was totally immobile and realized I was going to burn to death."
As he prayed to be shot before the flames reached him, an officer appeared and dragged him outside and away from the fire.
Across town, Wilcox and his partner, Spec. 5 Jerry Crane, were on patrol when they heard an explosion at Tank Farm II. They raced to the front gate, where several MP vehicles had already arrived. But they couldn't get inside because of small arms fire.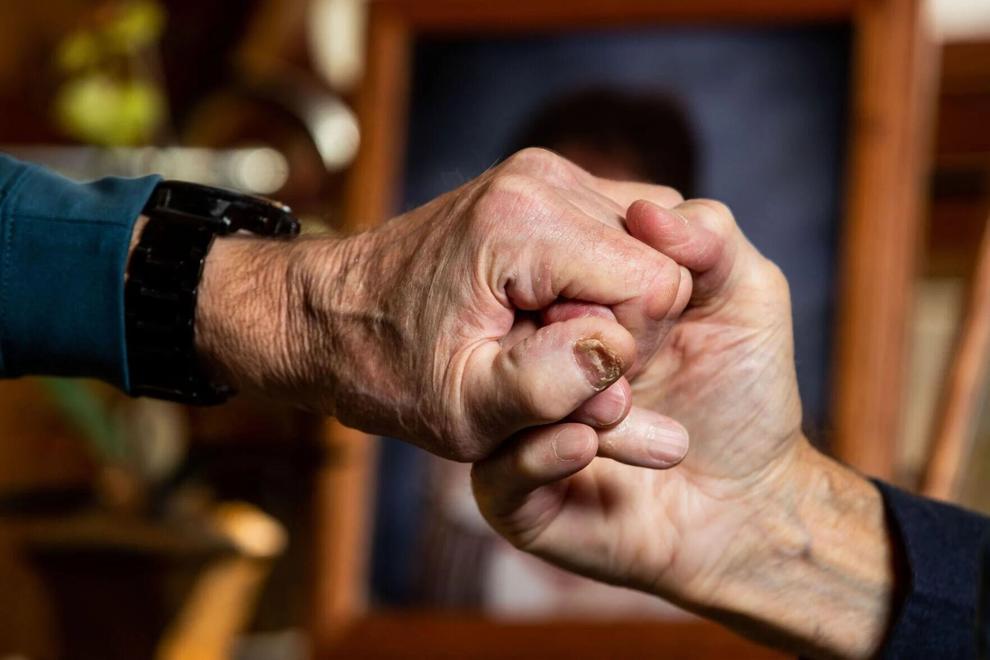 Finally one of the trucks drove through the fence. Wilcox saw at least two bodies, and helped two less-injured men get medical help. Then he saw Crane carrying the gravely wounded sergeant to their Jeep.
That's when they started their wild ride to the hospital.
As they screeched up to the emergency room, two medics rushed out. Kirby remembers one of them shouting, "This one's alive."
Wilcox and Crane headed back to the tank farm, where the battle had ceased but the fires continued to rage for another 24 hours. The soldiers somehow managed to extinguish them, and return the depot to service within a day.
But not without cost. Braggs and six other soldiers died in the battle. Kirby does not want their names forgotten: 1st Lt. Grady McBride III, 24, of East Gadsen, Alabama; Spec. 4 Robert Podnar, 28, of Reinbeck, Iowa; Spec. 4 Everett Ratliff, 20, of Baltimore, Maryland; Spec. 4 Johnny Dover Jr., 20, of Gaffney, South Carolina; Pfc. Robert E. Cook, 21, of Honesdale, Pennsylvania; and Pfc. Archie Trimm, 21, of Colton, New York.
Fourteen others, including Kirby, had been wounded.
Wilcox returned to the hospital the following day, to the very same ward where the sergeant he had helped rescue lay critically wounded. He had been assigned to guard a Viet Cong prisoner who was hurt in the battle.
Across the room, Wilcox saw where the soldier he had brought in was resting. He thought about asking him how he was doing. But he didn't want to disturb him.
The prisoner died within a few hours, and Wilcox left the hospital without saying anything to the sergeant. He finished up his extended tour in Vietnam in early 1971, and within a year got a job as a police officer in Stockbridge. Fourteen years later, he became the town's police chief. He held that job until retiring in 2014.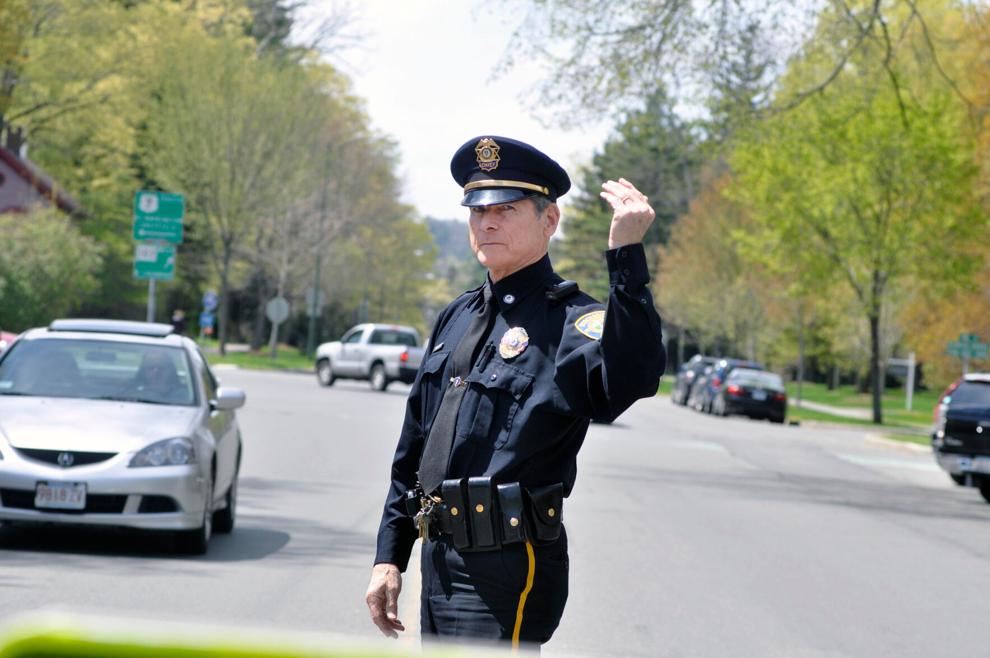 Wilcox earned a college degree, married (twice) and raised three children. In his police career, he witnessed the aftermath of car accidents and a murder, and of course he had seen some ugly things in the war.
But he never stopped wondering about the wounded sergeant, and kicked himself for keeping quiet that day in the Army hospital.
"It bothered me for 51 years. I didn't know who he was. I didn't know whether he lived, or if he lived," Wilcox said. "It was one of those things. Why didn't I go introduce myself and get his name?"
Kirby never forgot his rescuers, either, the nameless soldiers who gave him a second chance at life.
He suffered two collapsed lungs, and painful burns. His left leg was gone and his right leg was riddled with shrapnel — including bone fragments and a zipper from Braggs' uniform — that caused a raging infection.
He hung on at Qui Nhon long enough to be sent to a Navy hospital in Yokosuka, Japan.
"My parents had been notified," Kirby said. "They were going to fly to Japan because I wasn't expected to make it."
But they never had to come. After a few weeks in Japan, he was sent to a hospital at Fort Gordon, Georgia.
He received a Bronze Star with a "V" device for valor, for continuing to direct the defense of Tank Farm II until he was disabled by the explosion.
Kirby recovered and was medically discharged from the Army in 1972. He studied accounting and business administration in his hometown of Cleveland, Tennessee. He did some tax work and became part owner of a sporting goods store.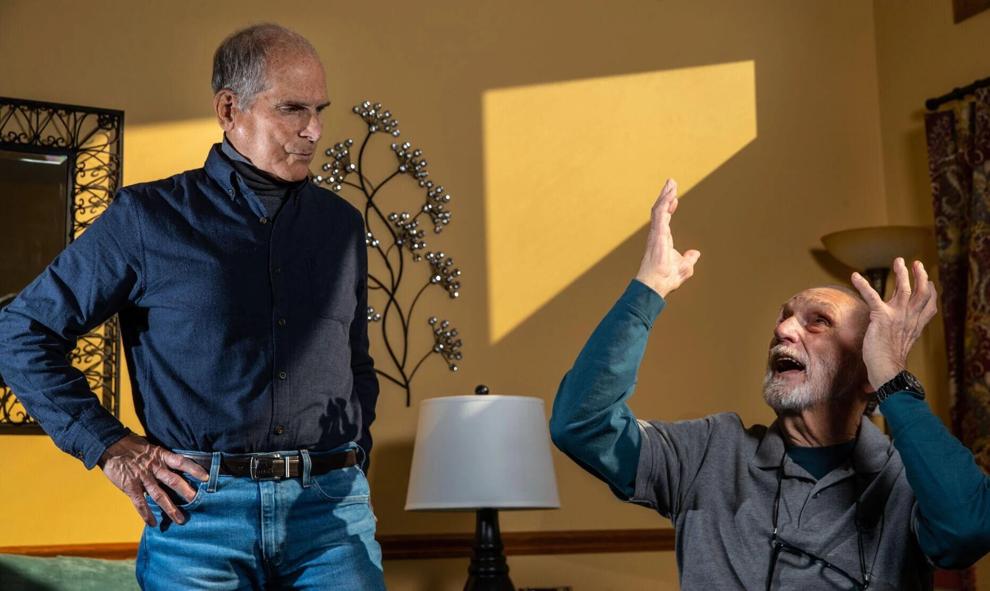 A few years later, Kirby moved with his wife, Gail, and daughter, Allison, to Fort Walton Beach, in the Florida Panhandle. He became very interested in boats and took classes in boating skills. In 1981, he passed a rigorous test to qualify as a "master" in the U.S. Merchant Marine — a career he worked at for 20 years.
Gail died in 1997. Three years later Kirby married his second wife, Tina. Five years ago they moved to Omaha to be near Allison and her husband.
Over the years, Kirby queried the Army to try to find out who might have saved his life at Tank Farm II but got no help. His internet searches turned up nothing, either.
Then in August, a suicide bombing at the Kabul airport triggered old memories. Thirteen U.S. service members and 179 Afghan civilians died. It reminded him of the blast that killed his comrades and nearly took his life.
One photo in particular moved him to tears. It showed Marine Sgt. Nicole Gee, 23, holding an Afghan baby in her arms a few days before the explosion that took her life.
"I saw that photo, and it just grabbed me so hard," Kirby said, tearing up again. "It overpowered me so much. It brought back the night I was wounded."
He downloaded the photo and put it on his computer desktop. He couldn't stop thinking about the young sergeant cradling that baby before she died.
And it reminded Kirby how grateful he was for the soldiers who had brought him back from the dead, and gifted him with another half century of life.
In October, that memory led him to VirtualWall.org, an online version of the Vietnam Veterans Memorial in Washington, D.C., with the names of 58,282 people killed in the war etched in black granite.
Kirby found Panel 9W, Lines 12 through 17, with the names of Braggs and the other men who died at Qui Nhon. On the tribute page for one of the men, he found the post by Rick Wilcox about the explosions and the gunfire at Tank Farm II, about the dead men he saw and the nameless sergeant he slapped and begged to stay alive on the way to the hospital.
In that electric moment of joy, he knew he had found his savior.
"I couldn't wait to get my hands on the keyboard," Kirby said.
Wilcox had written his account in 2005, but he had only posted it on Virtual Wall last year. He was no less shocked to hear from that sergeant as Kirby was to finally find him.
"You get an email that says, 'Thank you for saving my life,' it grabs your attention," Wilcox said.
Emails led to phone calls, which led to an invitation and a plane ticket. The two old soldiers who were linked by fate couldn't wait to meet.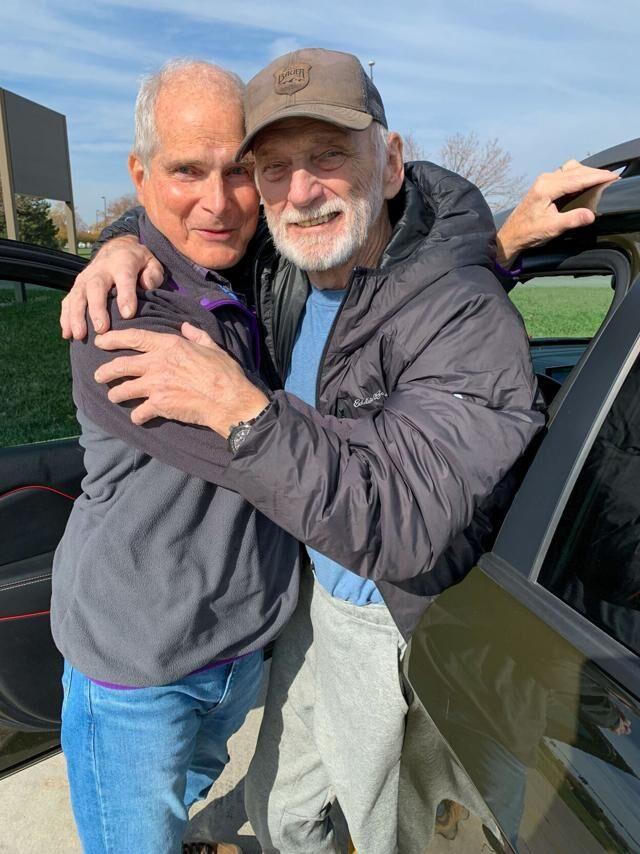 Doug and Tina drove their car — ironically, a Jeep — to pick up Rick at Eppley Airfield. They embraced in the cellphone lot.
"We just started to give a big hug to each other," Wilcox said. "There wasn't a lot of conversation. Just blubbering."
"It was a magic moment," he added.
They've spent hours since swapping stories, catching up. The words tumble out. Their eyes light up.
"I told myself, 'I'm not going to fall to pieces every time I think about this,'" Kirby said. "I just want to grab hold of him. I don't want to turn him loose."
They have no doubts that this friendship, forged in battle but delayed so long, will last.
Friends for life.